Peter Anton's Sweet Revenge at UNIX gallery
05/03/2017 by Audra Lambert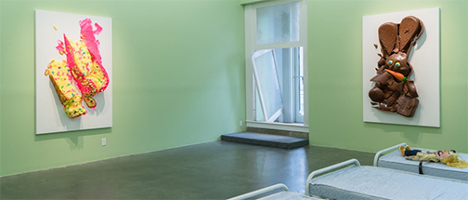 Installation view of Peter Anton's SWEET REVENGE.
There is no real world equivalent to Peter Anton's luscious "Sugatarium" on view now at Unix gallery.
The closest imaginable scenario would be a Willy Wonka fever dream combined with an enormous food fight. Entering the gallery, the visitor is confronted with a door jam torn asunder. Is this the work of patients driven mad by a taste for the sweeter things in life? Is this the unfortunate result of a tart hurled through at high speed? There is no time to ponder – within moments, a gregarious clown scoops popcorn into your hands and a feast for the senses begins.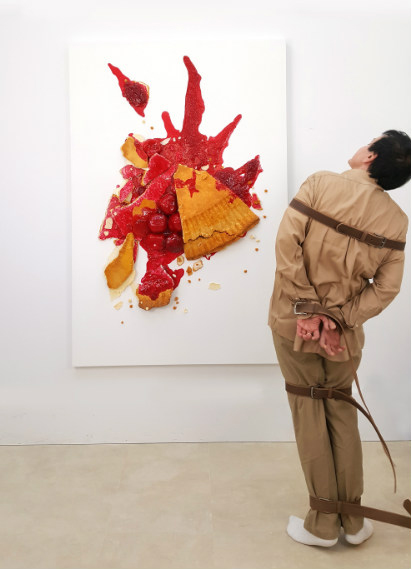 Installation view of Peter Anton's SWEET REVENGE.
Peter Anton is no stranger to crafting surprising art experiences. His deft hand is apparent in the realistic stroke of food sculptures mounted to the gallery walls. No trace of artifice exists in these works: only saccharine sorcery. How do these sugary treats remain suspended before us? The artist cleverly implies both the joy and terror associated with our dependency on food, particularly sugar. In a time when average soda sizes are seven times the serving size in the mid-20th century, this emphasis on sugar spectacle draws heavily upon changing expectations of American junk food consumption.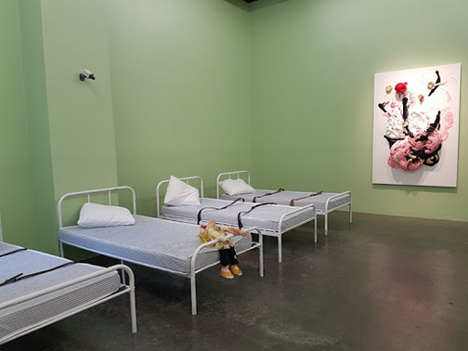 Installation view of Peter Anton's SWEET REVENGE.
Anton also considers the meaning of sweets as signifying childhood innocence. Visitors relapse to memories long past: friends' birthday parties, school functions and other celebrations. Associations to this childlike longing for sweets, this dopamine-induced pleasure, persist throughout the gallery's spaces. Actors sit astride beds which recall patients' quarters at sanitariums playing methodically with stacks of treats. The scene complicates our immediate reaction to sugar-laden snacks by forcing our consideration of the long-term effects of sugar consumption. Over time, the substance builds in our body, demanding constant replenishment much as Anton's performers are consumed by their repetitive actions.
Anton proves himself to be a keen observer and a cunning artist: from crafting claustrophobic spaces to installing shrines for our senses, Anton doesn't shy away from the bitter – or the sweet.
SUGATARIUM runs from April 27 – June 17, 2017. UNIX Gallery is located at 532 W. 24th Street, New York, NY 10011.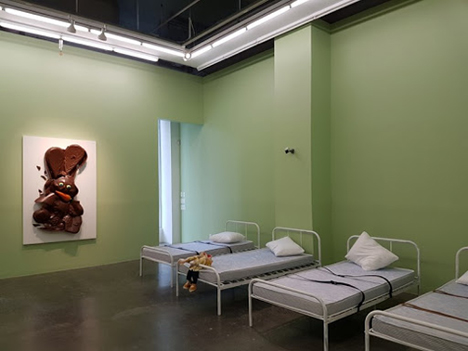 Installation view of Peter Anton's SWEET REVENGE.